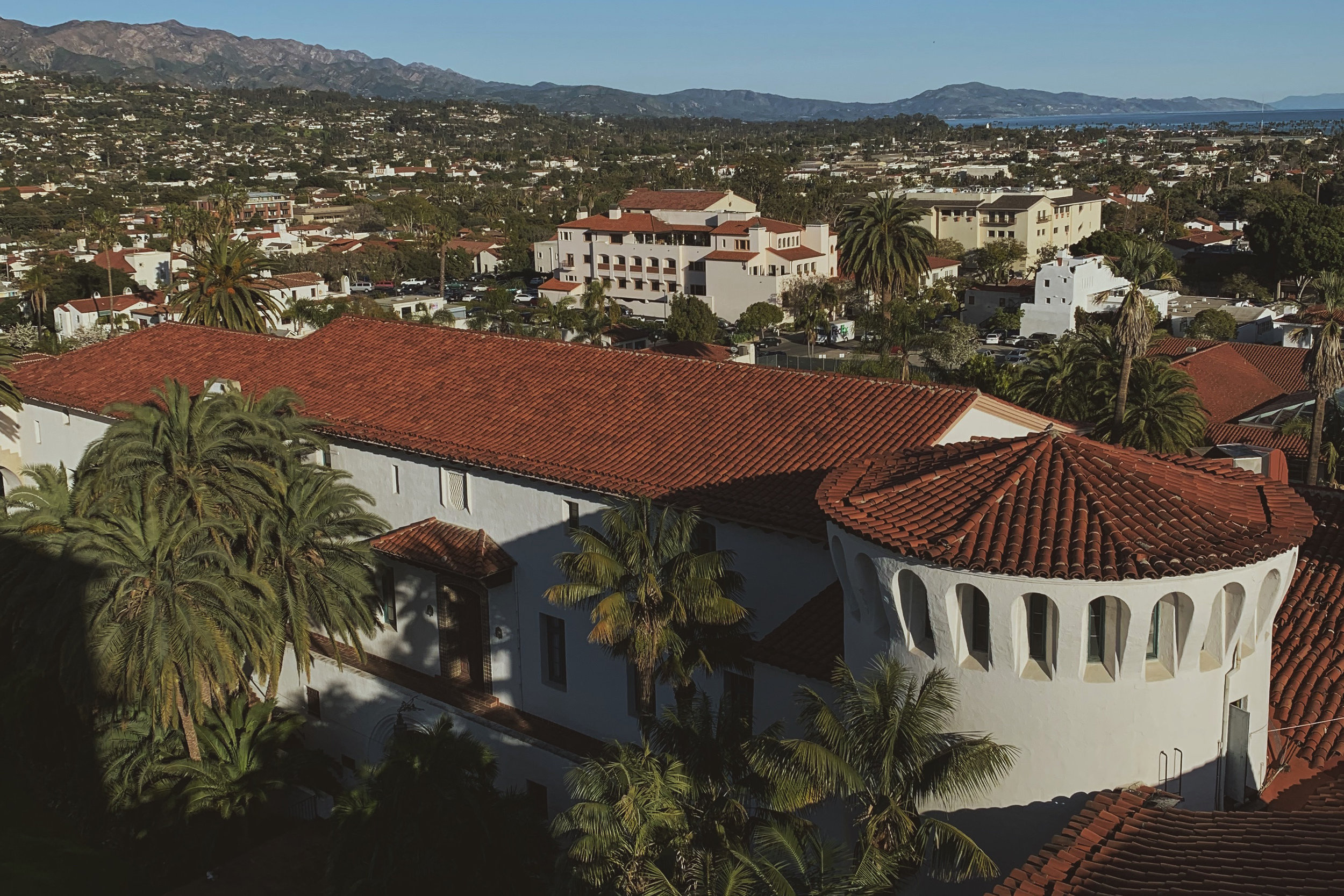 OUR WEDDING IN SANTA BARBARA
WHY SANTA BARBARA
We're skipping the formal invitations and fancy floral arrangements to focus on what matters to us — getting married!
Consider this your invitation. No need to RSVP, we know you're attending. And please, no gifts.
After living on the road for 4.5 years, we plan to eventually plant roots in Southern California. What sparked the idea of our Greetings Tour journey was a West Coast road trip in 2014. Along the way, we stopped in a beautiful town situated between the mountains and the ocean, Santa Barbara! Fast forward to 2019, a few friends mentioned we should check out the Santa Barbara Courthouse for our wedding. We took one step inside, turned to each other and just knew. It was the first and last place we looked, and then everything fell into place from there.
GETTING THERE
Santa Barbara has an airport (SBA), but LAX will be your best option considering cost. From Los Angeles, it's a gorgeous 2 hour drive along the Pacific Ocean through Malibu. Another option is taking the Amtrak train that picks up at LAX and drops off one block from Hotel Californian, and then you could Uber around town! All locations during our wedding are under 15 minutes driving time.
WHAT VICTOR & LISA'S WEDDING
THE CEREMONY
1100 Anacapa St, Santa Barbara, CA 93101
A short but sweet, informal ceremony will take place at the court house. The goal is to keep things simple. We recommend walking around the gardens and exploring the different levels of the building that is open to the public. There's a great view of the city from the clocktower accessible by stairs or elevator to the 5th floor.
We hired a wonderful photographer (Kelly Brown) to document, so please be mindful of phone usage during the ceremony.
ACCOMODATIONS
36 State St, Santa Barbara, CA 93101
As a thank you for traveling across the world to be with us during this special time, we are covering everyone's hotel stay during our wedding. Check-in is on October 20 and check out October 22, 2019. If you wish to extend your stay after these dates, the hotel honors the group rate they gave us, so please let us know if you wish to stay longer!
Hotel Californian is conveniently located across the street from the beach and a 5 minute drive to our ceremony. It's also next to a neighborhood called Funk Zone where most of the urban wineries are. There are walking/running paths along the beach and the Stearns Wharf is across the street from your stay.
*Please let us know if you need parking at the hotel
TIMELINE
SUNDAY OCTOBER 20, 2019
7:30pm Barbareño - dinneR, PRIX FIXE MENU
MONDAY OCTOBER 21, 2019
8:00am THE SHOP - Optional breakfast, MENU
6:00PM LOQUITA - Wedding dinner, PRIX FIXE MENU
TUESDAY OCTOBER 22, 2019